EMS, Highway Safety & Post-Crash Care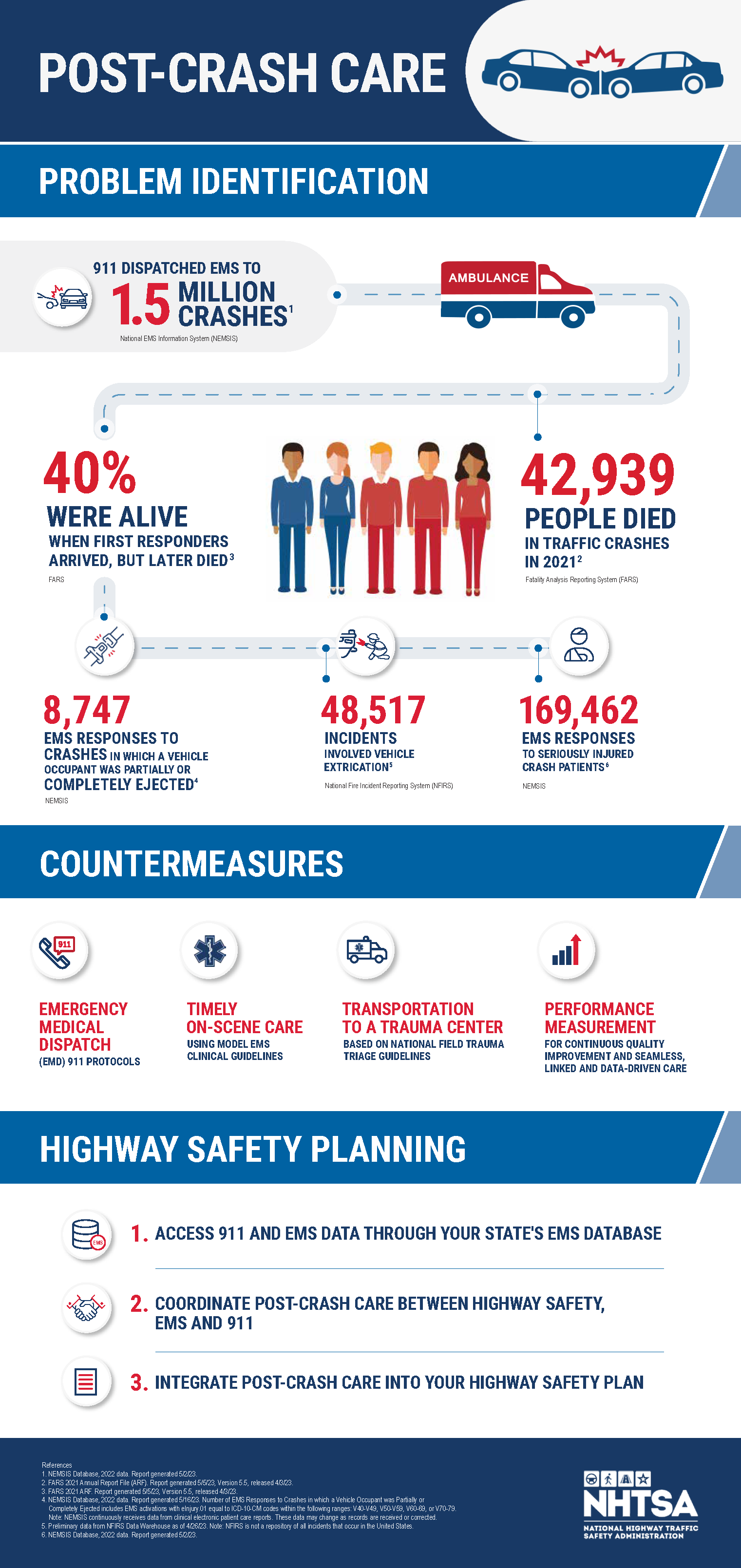 Download this infographic identifying the impact of post-crash care on highway safety.
EMS clinicians respond to nearly 1.5 million motor vehicle crashes on the nation's roadways every year. No matter when or where a crash occurs, 911 receives the call and if injuries are involved, 911-based Emergency Medical Dispatch initiates care and dispatches EMS clinicians to provide the critical medical care needed to help reduce death and disability on our roads and streets.
For the last 50 years the Department of Transportation (DOT) has supported EMS system development. Saving lives following a car crash depends on a well-resourced EMS system that can provide the right care at the right time. 
The DOT's National Roadway Safety Strategy (NRSS) declares that death and serious injuries on roadways are unacceptable. It sets a long-term goal of zero roadway fatalities supported by historic levels of highway safety funding under the Bipartisan Infrastructure Law.
The NRSS identifies Post-Crash Care as one of five complementary objectives of the Safe System Approach aimed at mitigating injuries and deaths resulting from roadway crashes.
The Safe System Approach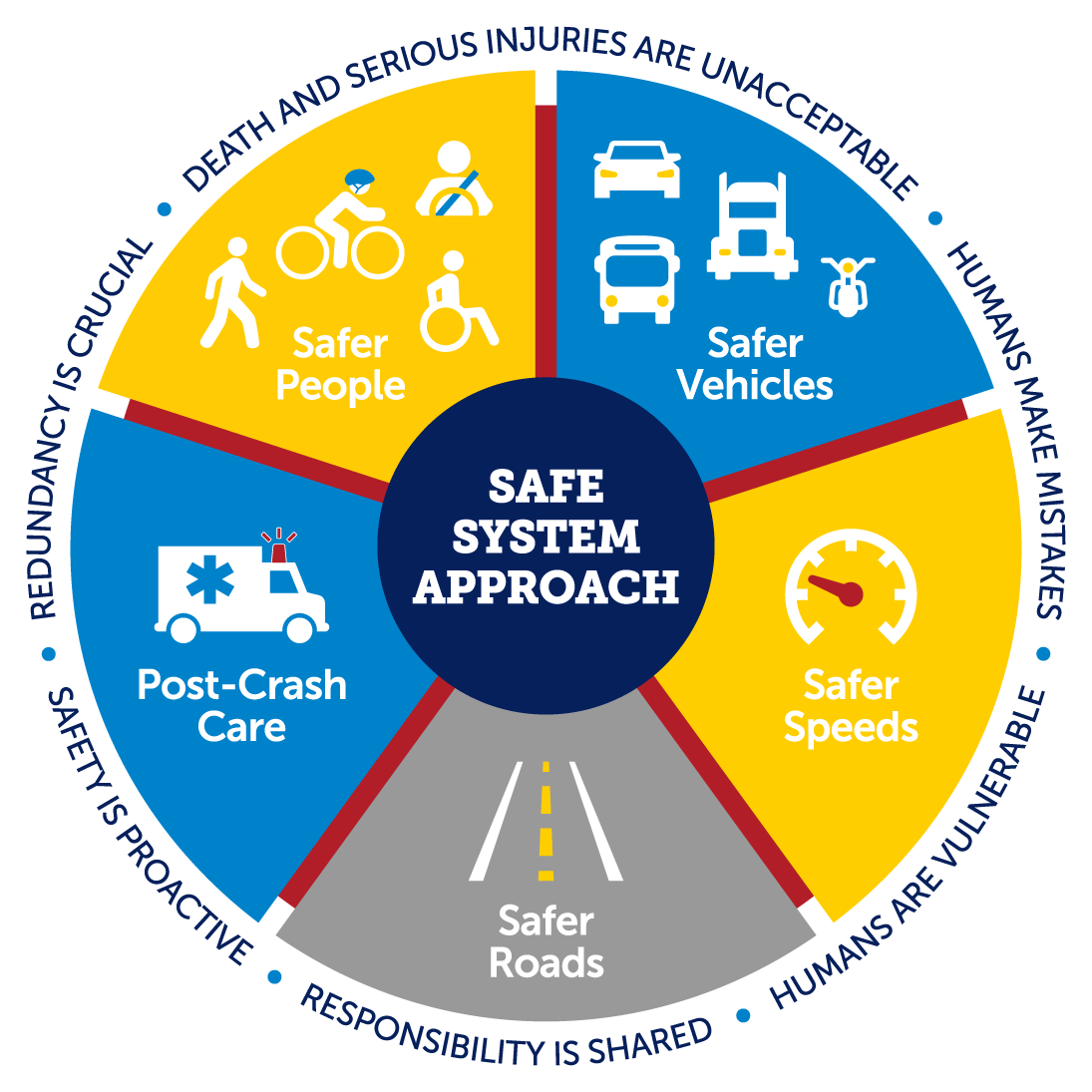 This holistic blueprint for reducing injury and deaths on our roads means that collaboration is absolutely necessary. Not only should 911 and EMS work together to improve patient care following a car crash, but it will be critical to continue and advance EMS leaders' long history of collaborating with state highway safety officials. 
As mentioned above, the NRSS is founded on a Safe System Approach that serves as a strategic roadmap to guide state EMS, 911 and State Highway Safety Offices (SHSO) in developing mutually beneficial efforts that meet shared goals. As the NRSS states, "the DOT recommends that a transportation organization should not assume its responsibility ends when a crash occurs. Caring for people injured in a crash to prevent their injuries from becoming fatal is just as critical."
Every state has a Triennial Highway Safety Plan (3HSP) and Annual Highway Safety Plan (HSP), otherwise known as an Annual Grant Application (AGA). These plans aim to reduce fatalities and serious injuries on all public roads. HSPs establish goals and objectives and describe strategies to reduce or eliminate safety hazards. "By reaching out to work with Highway Safety professionals, EMS leaders can share and advocate for EMS, 911 and trauma-related improvements that can help highway safety officials meet their goals and save more lives on the roadways," explains Dia Gainor, Executive Director of the National Association of State EMS Officials (NASEMSO). "Funding through the strategic highway planning (SHP) process, State Highway Safety Office grants or the Bipartisan Infrastructure Law may help fund collaborative ideas." 

In addition, EMS leaders can encourage their SHSO to adopt injury-prevention projects in underserved areas and training for safe extrication of motor-vehicle crash victims; promote adoption of revised National Trauma Field Triage Guidelines; sponsor traffic incident management (TIM) programs; and support Stop the Bleed educational initiatives, among other work.

A number of states have fiscal year 2023 highway safety plan projects planned to support EMS:

Montana

Dept. Public Health & Human Services (DPHHS) has funded projects to support:

Training for EMS agencies on pediatric safe transport

Rural EMS & Trauma Training – 6 courses to PHTLS providers

Training courses offered through Regional Trauma Advisory Committees

In addition, the 2020 SHSP update identified four over-arching emphasis areas for traffic safety including "Emergency Response – After-Crash Care"

South Dakota

Highway Emergency Responder Training – T.I.M. project with Highway Emergency Responder Training Foundation

ePCR data analysis by Dept. of Health, Office of Rural Health

EMS for Children (EMS-C) programs relating to pedestrian and bicycle safety and impaired driving

Washington

Dept. of Health (DOH) project developing MVC-related EMS key performance indicators (KPIs) for incorporation into WA EMS Information System (WEMSIS) for data submission and quality reports, assessment of MVC incident location data and geocoding of addresses.

"Partnering with EMS has powerful mutual benefits," notes Barb Sauers, Associate Administrator for Regional Operations and Program Delivery, National Highway Traffic Safety Administration. "EMS can provide information to State highway safety officials to help them reach their goals."

As a highway safety professional, you can invite EMS officials to conferences on highway safety issues, sponsor highway TIM training with state EMS officers, connect with local public health and EMS agencies for prevention programs and share training and educational materials.

Be sure, too, to access both EMS and 911 data through your state's EMS database and integrate post-crash care into your highway safety plan; your state EMS official or local EMS leaders can help you interpret and apply data and identify critical post-crash care needs.

Start by getting to know who's in your state SHSO and who your state EMS official is. "Promoting the training of telecommunicators and the adoption of Emergency Medical Dispatch for delivery of evidence-based pre-arrival instructions is one example of work that benefits 911, EMS and highway safety," says Harriet Rennie-Brown, Executive Director of the National Association of State 911 Administrators (NASNA).

"Another option is investing in 911 to facilitate the integration of Advanced Automatic Collision Notification in cars. When more vehicles have telematics, identifying the crash location and notifying 911 happens more quickly, and it's easier to predict injury severity. This enables telecommunicators to dispatch the right resource and get the patient to the right facility as soon as possible."
Last Updated: 11/30/2023