All-in-One: The EMS.gov Resources Hub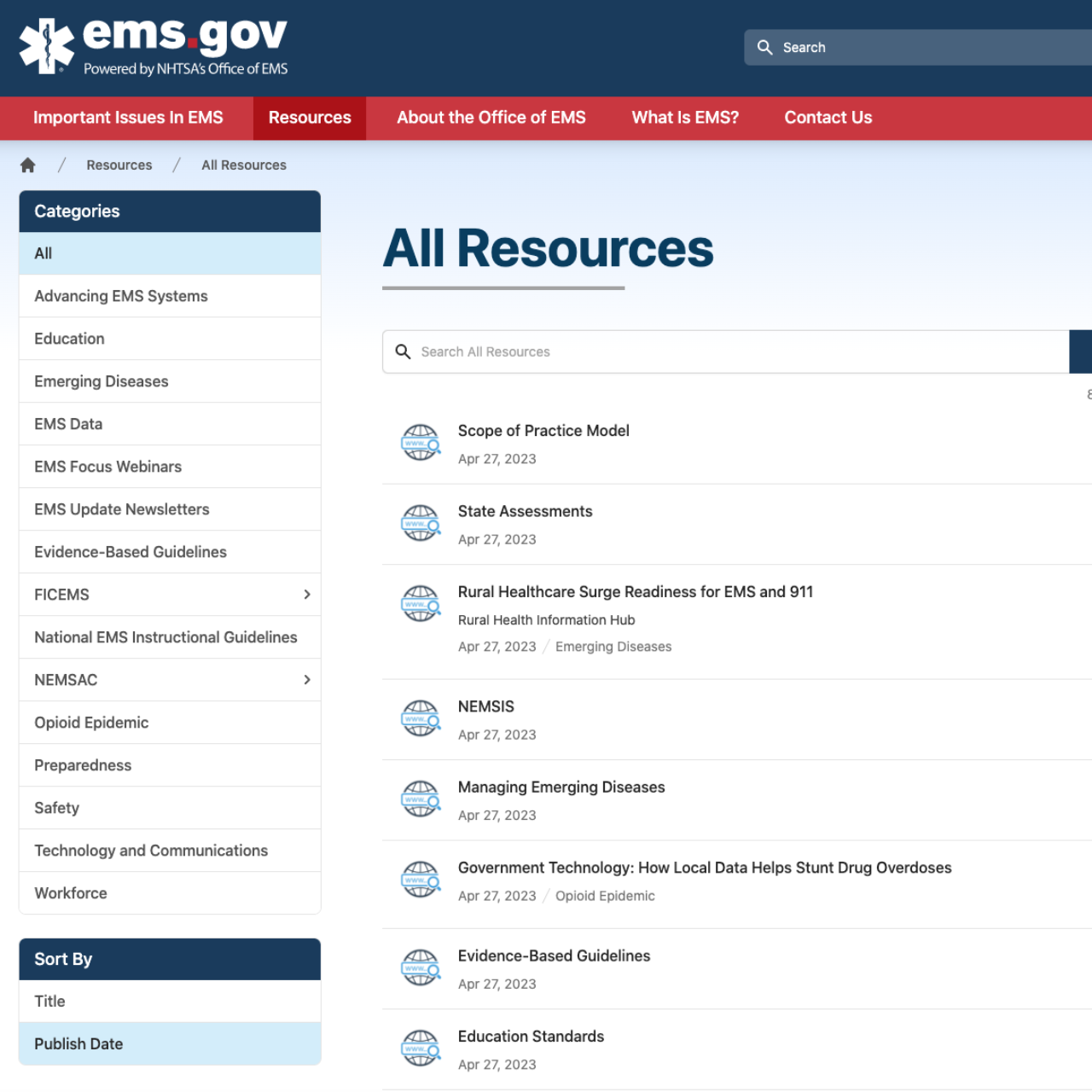 NHTSA's Office of EMS (OEMS) is committed to supporting the development and promotion of resources to improve EMS systems, educate others about the value of EMS and share data collected by clinicians across the nation. To expand the access to important information for the entire EMS community, we've created a convenient, new online source for all things EMS.
EMS.gov's completely updated Resources Hub makes it easy to search for, browse and download a wide variety of documents, reports and guidelines created by NHTSA's OEMS, our partners and other stakeholders. The EMS.gov website, which supports OEMS' continued focus on EMS systems that are both people-centered and data-driven, gives you convenient links to standardized data from various federal partners, including National Emergency Medical Services Information System (NEMSIS) reports and datasets and the National EMS Traffic Crash Dashboard.
Totally refreshed to save time and provide a better user experience, you'll find links to the most popular resources on EMS.gov, including the 2022 Annual Update, featuring the latest information about the National Roadway Safety Strategy (NRSS), new projects and national priorities.
Browse the updated EMS.gov Resources Hub
Federal Updates and Fast and Easy Downloads
The Resources Hub gives you access to the latest happenings in EMS at the federal level, from the Office of EMS newsletter, "EMS Update," and webinars, "EMS Focus," to FICEMS and NEMSAC updates. To simplify your search for often-referenced materials, the site features EMS Agenda 2050 and state system assessments, as well as file downloads such as the current Star of Life brochure, the National EMS Education Standards and the National EMS Scope of Practice Model.
Some of the most popular search categories include: