New Prehospital Emergency Care Article Addresses EMS Medical Care of Animals
NHTSA Public Health Fellow also authors article on disaster planning and pets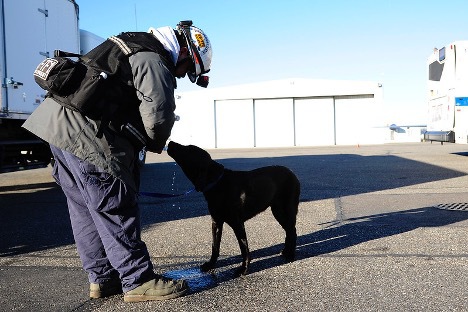 Is your state one of the nine that allow emergency medical treatment of ambulances or transport of animals by EMS?

If you're not sure the answer to that question or others related to EMS care for pets or other animals, you're probably not alone. Yet it's quite likely that as an EMS clinician you've faced a situation where you've been asked to help with an injured dog, a cat in need of rescue or another situation involving a furry patient.

Katharyn Kryda, DVM, MPH, is an experienced veterinarian who has spent the last several years serving with the NHTSA Office of EMS through the Association of Schools and Programs of Public Health fellowship program. She recently co-authored an article for the journal Preshopital Emergency Care, "EMS Safety and Prehospital Emergency Care of Animals." The article provides an "initial framework from the veterinary perspective for EMS consideration regarding current legislation, safety concerns, transport protocols, and common life-saving treatments in the prehospital emergency care of animals." It also calls for increased collaboration between EMS and veterinary professionals to improve disaster planning and develop training opportunities.

Dr. Kryda also recently published an article about pets and disaster planning in the newsletter of the American Public Health Association's Veterinary Public Health interest group. Read the article and learn more about her in this APHA spotlight.