New Guidelines for Teaching Mass Casualty Incident Triage Support Unified Emergency Response
The Office of EMS introduces addendums to the Instructional Guidelines for all provider levels in responding to mass casualty incidents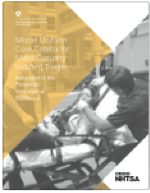 Mass casualty incidents usually don't adhere to jurisdictional boundaries and response often involves multiple agencies, regions and states. The Model Uniform Core Criteria for Mass Casualty Incident Triage (MUCC) were created to help ensure that every responder is using triage protocols that follow similar evidence-based standards. Now, the National Highway Traffic Safety Administration (NHTSA) has also released new materials to help EMS instructors educate providers of all levels about MUCC.
"Oftentimes, EMS clinicians are taught multiple triage systems that may conflict or be incompatible with each other," says Gam Wijetunge, NRP, with the NHTSA Office of EMS. "MUCC and the new instructional guidelines were developed to make sure responders at a large incident are on the same page."
The NHTSA Office of EMS recently hosted a webinar as part of its EMS Focus webinar series, led by an expert panel that discussed the process used to develop MUCC and the instructional guidelines, as well as the outcomes of several pilot uses of those guidelines. The EMS1 article, "How to standardize mass casualty triage systems" by Editor-in-Chief Greg Friese, describes MUCC and offers a detailed recap of the webinar.
The Office of EMS works closely with its federal partners and fellow agencies to help EMS systems prepare for mass casualty incidents, disasters and other unexpected events. To access the MUCC addendums to the instructional guidelines for EMRs, EMTs, AEMTs and paramedics, visit ems.gov and click under "Resources."