NEMSAC Welcomes New Members to Council
Council realigns committees to match EMS Agenda 2050 guiding principles, re-elects chair and vice chair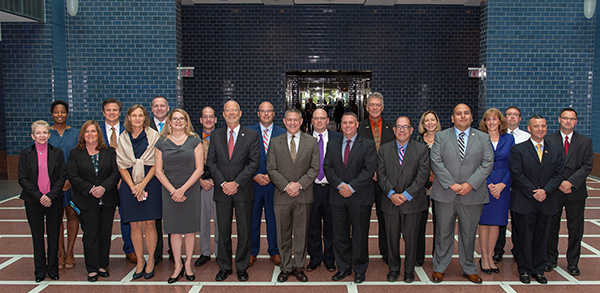 Several new and returning members of the National EMS Advisory Council were sworn in and discussed their priorities at a meeting in Washington in October. A complete list of current NEMSAC members is available on EMS.gov.
The council discussed a wide range of topics, from improving data analysis in EMS to addressing staffing shortages in both career and volunteer organizations. NEMSAC members will also review the responses to a recent Request for Information that solicited suggestions for how to improve prehospital trauma care, and make recommendations for how DOT and its federal partners should address them. (The responses can be read online.)
The council members, who were appointed by Secretary of Transportation Elaine Chao, will spend the next two years further defining their priorities and providing recommendations to the Department of Transportation and the Federal Interagency Committee on EMS (FICEMS).
Council members also chose to change the NEMSAC committee structure to align with the guiding principles of EMS Agenda 2050. Those new committees are: Profession Safety, Integration & Technology, Preparedness & Education, Equitable Patient Care, Sustainability & Efficiency, and Adaptability & Innovation.
In addition to reviewing past council advisories and prioritizing issues to be addressed, the council will also be reviewing both EMS Agenda 2050 and the FICEMS Strategic Plan.
In the past, NEMSAC advisories and recommendations have led directly to federal support of several efforts, such as the recent revision of the National EMS Scope of Practice Model or current initiatives to update the National EMS Education Standards and bring stakeholders together to discuss the nomenclature used to describe EMS clinicians and the profession as a whole.
Council members re-elected Vince Robbins, who represents hospital-based EMS, as council chair and Anne Montera, who represents public health, as vice chair of the council.