FICEMS Releases Telemedicine Framework for EMS and 911
Tune in for the next EMS Focus webinar on September 22 to learn more about implementing telemedicine in your EMS system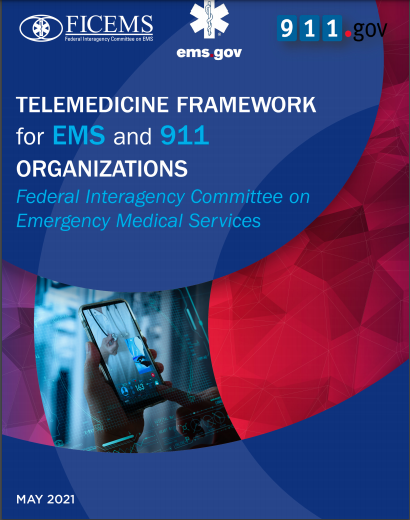 No one could predict the speed at which COVID-19 changed healthcare. One of the most lasting impacts for EMS may be the faster, wider adoption of telemedicine across the country.

Telemedicine includes live videoconferences between an individual and their provider; remote patient monitoring that collects medical and other data from patients and securely transmits that information to providers in other locations; the delivery of healthcare through mobile devices like smartphones and tablets; and many other tools and technologies.

But not every EMS agency or 911 emergency communications center is familiar with telemedicine or knows how to take advantage of these new tools, implement them in their agency or figure out how to be paid or reimbursed for these services.
A Need for Guidance
To help address that gap, several federal agencies and partners throughout the EMS community collaborated to create a resource that would guide both EMS and 911 in creating a telemedicine program from start to finish or improve one already in place. The result, released in May 2021, is the "Telemedicine Framework for EMS and 911 Organizations," a 45-page guide explaining how agencies can use telemedicine to deliver high-quality, cost-efficient care at the right place and the right time.

"A broad range of innovation happened during the pandemic to address the barriers to care, including the fear many people had of accessing healthcare," notes Pat Songer, a longtime EMS executive currently serving as chief operations officer at Cascade Medical in Leavenworth, Washington, and executive director of the National EMS Management Association. "We saw a lot of startup companies out there in the tech world pairing with EMS companies to implement telemedicine and then connect that patient's visit into an [electronic medical record] or a health data exchange network that would then connect them back to their PCP."

In fact, in 2020 an estimated $80 billion was invested globally in healthcare, according to a January 2021 report by CB Insights. The report specifically called out telehealth as an important driver of these investments, and $26.5 billion of the total went to digital health companies.

Songer, who sat on the committee that created the new framework to help EMS and 911, says the unique situation of COVID-19 "gave EMS the ability to jump squarely into the telemedicine space and use technology." But the opportunity also raised complicated questions for the field. One example: figuring out how to choose and implement methods of payment for EMS organizations who deliver telemedicine. The framework addresses this complex topic in depth.

Importantly, the expansion of telemedicine in EMS may also give professionals a new and larger role to play in delivering healthcare, especially to rural and underserved communities.

"Instead of looking at things from the sense that we're going to transport a patient to the hospital…now we have another tool with telehealth to arrive on scene and do a telehealth visit with a physician and navigate that patient appropriately," explains Songer. "The key is making sure that the telehealth visit is a component of healthcare, that we're not taking care of that patient in an episodic manner, but through the lens of the complete healthcare continuum."

Other topics addressed in the framework include:
How telemedicine relates to the Centers for Medicare & Medicaid Services' pilot Emergency Triage, Treat, and Transport (ET3) model

The value proposition of telemedicine for EMS and 911 services as well as patients, the community and the greater healthcare system

How to start a telemedicine program, especially in the context of COVID-19 and changes to CMS regulations

Measuring the performance of a new or existing program and sustaining it over time

Creating a business plan and managing payment sources

Operational, technical, regulatory and policy considerations
Read FICEMS' "Telemedicine Framework for EMS and 911 Organizations."

Please join us on September 22 at 2 pm ET / 11 am PT for "Implementing Telemedicine in EMS and 911," a free webinar hosted by the NHTSA Office of EMS. Find out more and register here; visit the EMS Focus webinar series page to view previous webinars and sign up to make sure you're notified of future EMS Focus webinars.