Advancing Evidence-Based, People-Centered EMS Care
Provide public comment now on the latest draft of the National Model EMS Clinical Guidelines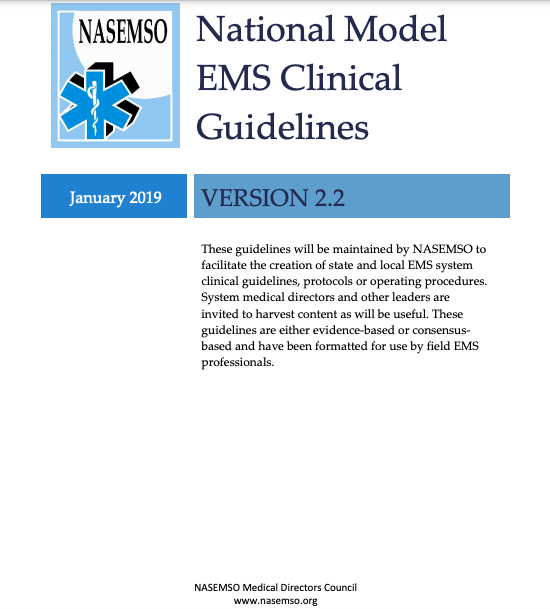 What a difference a generation makes—in 2007, a report from the Institute of Medicine pointed out the lack of evidence supporting most prehospital patient care protocols and practices. While most EMS systems were making treatment decisions based on what they felt was best for patients, there was little evidence to back it up.

Now, thanks to the efforts of researchers, regulators and other EMS leaders, EMS systems have resources they can use to ensure treatment protocols are based on the best evidence available. Those resources include evidence-based guidelines, model clinical protocols, and quality measures.

The first step in creating an evidence-based guideline is conducting a review of the evidence. After deciding which questions to study, a thorough search of all published research articles—sometimes called a literature review—is conducted.
What's the best way to manage an airway?
An example that will certainly be of interest to most of the EMS community is the recently published literature review examining prehospital airway management, an effort supported by a collaboration between the NHTSA Office of EMS and the Agency for Healthcare Research and Quality. The review, conducted by a team from the Evidence Based Practice Center at Oregon Health Science University (OHSU), examined the following key questions:
What are the comparative benefits and harms of bag valve mask versus supraglottic airway for patients requiring prehospital ventilatory support or airway protection?

What are the comparative benefits and harms of bag valve mask versus endotracheal intubation for patients requiring prehospital ventilatory support or airway protection?

What are the comparative benefits and harms of supraglottic airway versus endotracheal intubation for patients requiring prehospital ventilatory support or airway protection?

What are the comparative benefits and harms of the following variations of any one of the three studied airway interventions (bag valve mask, supraglottic airways, or endotracheal intubation) for patients requiring prehospital ventilatory support or airway protection?
Within each of those questions, they considered the impact of which techniques or devices were used, the characteristics of the EMS personnel (i.e., training, experience, licensure level, etc.), and patient characteristics.

The literature review is just a first step—the next phase will be to take those findings and turn them into an evidence-based guideline that summarizes the research and draws conclusions on how it should influence patient care in the field.
Providing evidence-based pain management
Currently, the National Association of State EMS Officials, in collaboration with other organizations and with funding from NHTSA and HRSA, is in the final stages of creating an evidence-based guideline for prehospital pain management. When the guideline is published this fall, it is anticipated that it will address topics such as which medications are safest and most effective for pain management for patients of all ages.

The pain management evidence-based guideline will help EMS systems across the nation provide truly patient-centered care. For agencies unsure how to interpret the numerous published studies, or struggling to explain the value and safety of certain medications when used appropriately, this guideline will be a useful tool that they can be assured was created based on the latest research and with careful deliberation by leading EMS clinicians and medical directors.

The team is also working on accompanying education materials and performance measures that will help EMS organizations implement the guideline and track whether they are providing patients with evidence-based care.
Updating the guidelines
Of course, nothing in research or medicine is ever final. As evidence changes, new therapies arise and other changes occur that impact EMS operations and patient care, guidelines may need to be revised.

An example of that process includes the current effort to update the Field Trauma Triage Guidelines, which were released by the US Centers for Disease Control & Prevention in 2011. The NHTSA Office of EMS has partnered with the American College of Surgeons to update those guidelines. The ACS assembled a technical expert panel, which has been having regular meetings and collected stakeholder input. As with other EBGs, the process of updating the trauma triage guidelines also included a review of the scientific literature.

The expert panel is currently continuing its work on the guidelines and will also be creating performance measures and training materials to help EMS services implement those guidelines once they are released in 2022.
Putting it all together
Evidence-based guidelines are created for many reasons, but one of the most critical is that they make it easier for EMS medical directors, leaders and clinicians to provide the most appropriate care—even if they don't have the time or expertise to read, interpret and synthesize the available evidence. To help even further, a group of EMS experts—led by NASEMSO with funding from NHTSA—created the National Model EMS Clinical Guidelines. These use the latest evidence-based guidelines, along with other evidence and best practices, to create a full set of what are essentially sample EMS protocols that state and local EMS organizations can use or adapt in their organizations.

"The guidelines are designed to be patient-centric and, as such, are focused on improving patient outcomes rather than a specific scope of practice, EMS system design, resource availability, or budgetary limitations," said Carol Cunningham, MD, Ohio's state EMS medical director and co-principal investigator for the current revision process of the model clinical guidelines.

"The model clinical guidelines are a resource that can be harvested in any manner that an EMS medical director or EMS system's oversight deems appropriate to provide care in an effort to improve patient outcomes," added Richard Kamin, MD, state EMS medical director in Connecticut and the other co-principle investigator. "Some utilize the guidelines in whole, while others have used them as a foundation for their EMS protocols. Some systems use them to identify areas to target for improvement in training, equipment, or other resources that may hinder them from achieving patient care delivery."

Until September 24, 2021, NASEMSO is seeking public comment on a draft of version 3 of the National Model EMS Clinical Guidelines. This is your chance to review the proposed guidelines and provide any feedback before they are finalized and released next year. You can read the draft guidelines and submit your comments here.