Twenty Years of National EMS Data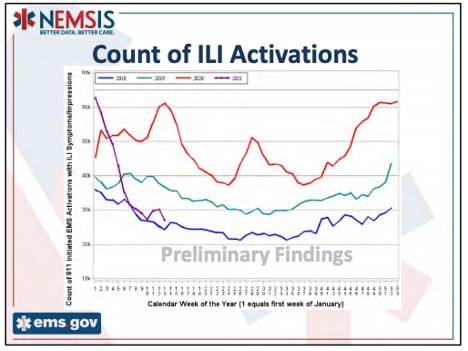 Already this year, more than 5 million EMS incidents have been recorded in the National EMS Database—many of them just minutes after EMS clinicians submitted the patient care report. Thanks to participation from 50 states and territories, that means data from the majority of EMS responses in the country now helps inform decision-making by EMS leaders at all levels, including state and federal officials.

"It's been incredible to watch the National EMS Information System and National EMS Database grow since its creation just two decades ago," said Jon Krohmer, MD, director of the Office of EMS at the National Highway Traffic Safety Administration, which oversees NEMSIS.

Following the call for improved EMS information systems in the 1996 EMS Agenda for the Future, the National Association of State EMS Directors (now NASEMSO), NHTSA and the Health Resources and Services Administration EMS for Children Program joined together to launch NEMSIS in 2001. The first public release of national EMS data made possible by NEMSIS came in 2006—it included 300,000 EMS activations from 3 states. In 2020, that number grew to more than 44 million activations from 12,000-plus agencies in 49 states and territories.

"We now get frequent requests for EMS data from our colleagues throughout the federal government—at the Centers for Disease Control and Prevention, for example, or leaders of the COVID-19 response or the fight against the opioid epidemic—not just because they want to see what EMS is doing, but because we have one of the most complete healthcare datasets in the country, making it a great tool for seeing the big picture of the health of the entire nation," Krohmer said.
EMS Data Shed Light on COVID
Since the beginning of the pandemic, for example, the team at the NEMSIS Technical Assistance Center (TAC) has worked tirelessly to provide NHTSA and its federal partners, state officials and researchers with relevant and nearly real-time information. Weekly reports showing the impact of COVID-19 on trends across the country have been shared with officials and are also available to the public at NEMSIS.org.

Those reports were especially useful at showing the increase in calls for flu-like symptoms at the onset of COVID and during subsequent spikes in hospitalizations and deaths, as well as the simultaneous decrease in overall calls as people stayed home and avoided seeking healthcare.

"Those two charts alone can better tell the story of the impact of COVID on EMS clinicians and systems than anything else," Krohmer said. "The simultaneous risk to clinicians' health and risk to EMS systems' financial health is summed up by those peaks and valleys."

Researchers pored through the data as well, publishing several articles in a number of peer-reviewed journals. In July, researchers from the University of Buffalo and the Oregon Health and Science University teamed up with experts at the NEMSIS TAC to publish a preliminary report on the impact of COVID-19 on EMS in the United States. What made that research all the more remarkable is that the article used NEMSIS data from up to and including May 24, 2020—just weeks before the publication date.

"While many healthcare research articles rely on data from years before, having that near-real-time information can be critical, especially during rapidly changing scenarios like the pandemic," said Clay Mann, PhD, the principle investigator for the NEMSIS TAC and a co-author of the article.

The NEMSIS TAC maintains a list of publications using national EMS data on its website, where you can also find information on how to request datasets for your own research projects.
NEMSIS Supports Innovative ET3 Model
The launch of the Center for Medicare and Medicaid Innovation's Emergency Triage, Treat, and Transport (ET3) Model earlier this year marked a pivotal milestone for EMS—and for EMS data.

The team at the NEMSIS TAC and NHTSA have been collaborating with the ET3 team, state officials, software vendors and local agencies to support their needs as they embark on a five-year evaluation of a payment model that will provide greater flexibility to EMS by allowing them to bill for treatment in place and transport to alternative destinations, such as urgent care clinics. (The next phase, which will include medical phone triage lines, has not gone live yet.)

In January, 184 public and private ambulance providers and suppliers representing 36 states agreed to participate in the ET3 Model. Data collection, reporting and analysis will be an important piece of the program and evaluating whether the model successfully meets its goals of reducing healthcare costs and improving care options.

Because of the NEMSIS standard, these EMS agencies and their software vendors were already using a consistent data format that will allow the Centers for Medicare and Medicaid Services to easily collect, aggregate and analyze the information submitted by the participating agencies. As of March 15, 2021, ET3 has received about 250,000 electronic patient care reports from 27 participants.

"This is another example of the power of NEMSIS in facilitating data sharing and integration," Mann said. "The data standard, now used nearly universally across the country, has transformed EMS data into a powerful healthcare, research and evaluation tool. We're excited for the ET3 Model and other data-sharing partnerships on the horizon."
Upcoming NEMSIS Training, Meetings
Interested in learning more about NEMSIS and EMS data? The Technical Assistance Center is planning two meetings later this year, both virtual due to COVID-19.

On July 13, 2021, they'll be hosting the Boot Camp for State Data Managers: Transitioning to v3.5. And on August 3-5, the annual meeting will feature a number of workshops, speakers and opportunities to get your questions answered about the continued implementation of Version 3 and future updates. Details, including agendas and registration information, will be posted here when they are available.