New COVID Webinar, Resources and More on EMS.gov
Be sure to check out the COVID-19 page on EMS.gov for all the information you need, including resources added earlier this year to help EMS organizations assist with vaccination efforts. You can find materials to help train EMTs to administer the vaccine, general information on the vaccine to help encourage EMS clinicians to get their shot, and much more.

One of the resources, the Just in Time Training EMT Vaccination Program, includes:
Descriptions of the required skills and how to properly teach and evaluate them

Downloadable skills assessment checklist

Links to training videos

And other important information about the vaccines and EMS vaccination programs
EMS Resource Reporting Tool
You'll also find a link to the EMS Resource Reporting Tool, a site created by the NEMSIS Technical Assistance Center and NHTSA to allow EMS organizations to report information related to local staffing, PPE and vaccination needs. EMS leaders across the country are asked to use the tool once a week in order to give state and federal officials the data they need to support local EMS systems during the pandemic.

"The Resource Reporting Tool has given us a clearer picture of how EMS is being impacted by the pandemic at the state and local levels," said Jon Krohmer, MD, director of the NHTSA Office of EMS, who is also serving as EMS/Prehospital Team Lead for the federal response. "State officials have used it to direct local resources, and right now it's really helping us see whether EMS personnel are choosing to get vaccinated."

Agencies experiencing shortages of PPE are especially encouraged to use the site.

"Right now, we're not seeing the shortages we saw early on—so if you're experiencing them, we need to know so we can figure out if it's just a local issue or a wider problem," Krohmer said.
Webinar Tackles Impact of Pandemic and Vaccines on EMS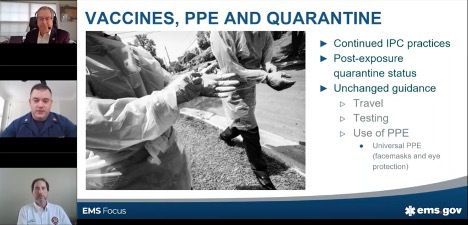 It wasn't really that long ago that EMS clinicians never wore gloves while treating patients. The emergence of HIV/AIDS, along with increased focus on patient and provider safety, changed that, and today gloves have become a routine part of EMS response. The COVID-19 pandemic may have the same impact when it comes to masks, according to Kenneth Scheppke, MD, Florida's state EMS medical director.

That was just one of the insightful observations during a recent EMS Focus webinar featuring Scheppke and Bryan Christensen, PhD, an epidemiologist and industrial hygienist with the US Centers for Disease Control and Prevention.

Christensen, a who has worked with the EMS/Prehospital Team as part of the federal response, addressed some of the ways vaccines will impact—and not—EMS operations, including PPE use, quarantine rules and other control measures.

You can view the recording of the webinar and the presentation slides, as well as previous EMS Focus webinars, on the EMS Focus page on EMS.gov.