New COVID-19 Resources and Webinars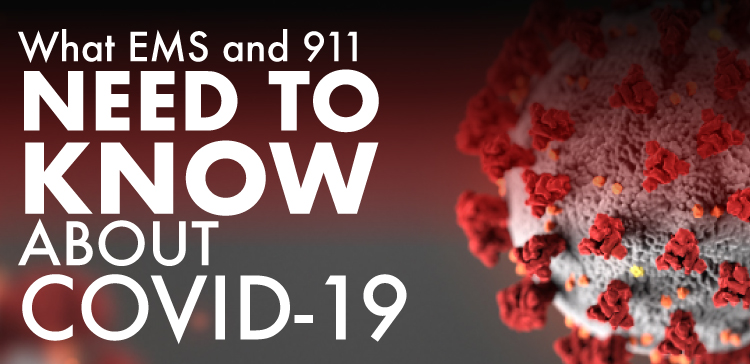 The NHTSA Office of EMS recently launched a COVID-19 resource page on EMS.gov. There you'll find resources and links to important information from other federal agencies, such as the CDC. The page will be updated regularly and is intended to serve as an easy way to find the most relevant information for EMS organizations and clinicians.

The COVID-19 resource page also contains several documents to help EMS and 911 systems prepare for and respond to pandemics, including the ASPR TRACIE EMS Infectious Disease Playbook, the EMS Pandemic Influenza Guidelines for Statewide Adoption and information on adopting crisis standards of care. Included is also a link to a resource for law enforcement agencies that you can share with your local law enforcement partners.

To ensure access to the latest information for EMS on COVID-19, bookmark the COVID-19 resource page and sign up to receive email updates from the NHTSA Office of EMS.
Office of EMS Hosts Webinars on COVID-19 Topics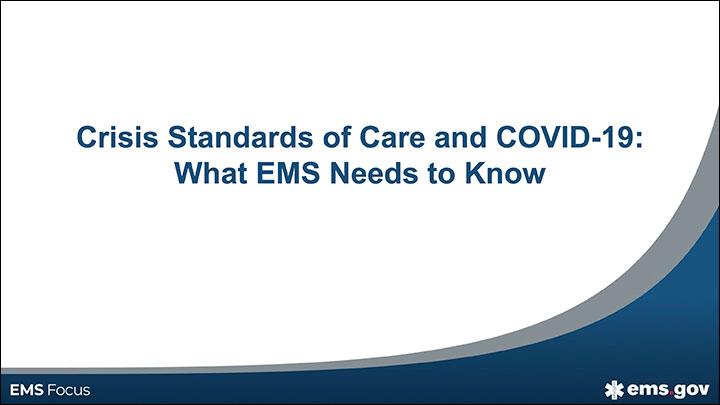 Sharing information and lessons learned is critical in the response to a constantly evolving public health emergency like the one our nation faces. The Office of EMS has hosted two special editions of the EMS Focus webinar series focusing on COVID-19, both of which are now available for viewing on EMS.gov.

The most recent webinar, held on March 26, featured experts on implementing crisis standards of care, including state and local EMS officials from Minnesota, where the State EMS Regulatory Board issued new regulations early on in the COVID-19 response. The webinar also included an expert on public health emergency law discussing how to safely implement crisis standards of care in order to protect your organization and clinicians.

In the late February webinar, the NHTSA Office of EMS hosted colleagues from the US Centers for Disease Control and Prevention and the HHS Office of the Assistant Secretary for Preparedness and Response as they outlined some of the early guidance for EMS clinicians responding to potential COVID-19 patients.