National EMS Scope of Practice Model
First revision to the National EMS Scope of Practice Model in a decade reflects the latest evidence and best practices in EMS care and helps improve EMS personnel licensure level consistency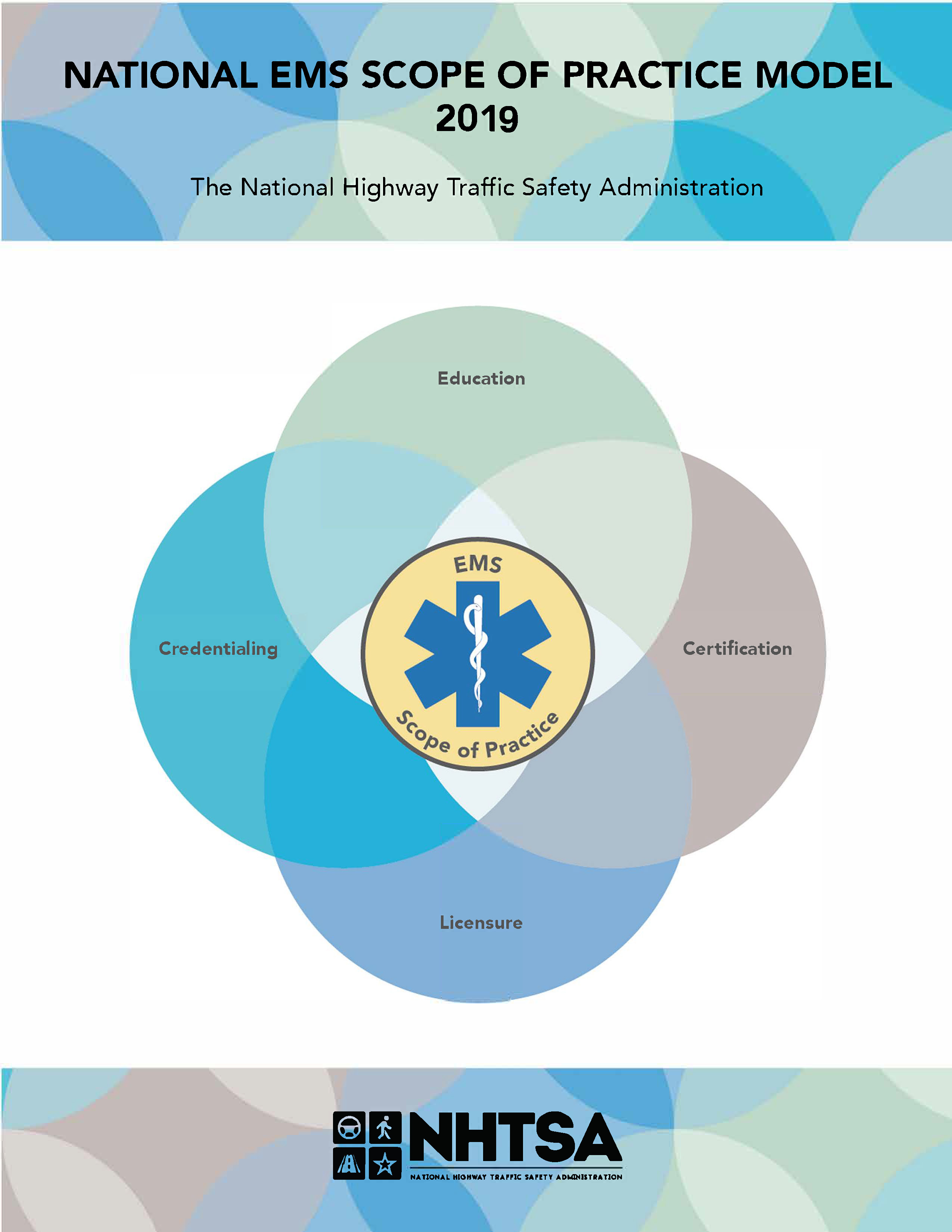 The National EMS Scope of Practice Model is part of an integrated, interdependent EMS education system that strives to increase consistency, efficiency and clinical competence. 
Since 2007, the Scope of Practice Model has given guidance to states by providing a national definition of the various duties or services provided by EMS clinicians at each of the four levels of national certification:
Emergency medical responders

Emergency medical technicians

Advanced EMTs

Paramedics
The model facilitates reciprocity and standardizes professional recognition to decrease the necessity for states to develop their own education and certification materials.
Initially published in 2007, the National EMS Scope of Practice Model was revised in 2019 by the National Association of State EMS Officials, with funding provided by the NHTSA Office of EMS and the Health Resources and Services Administration. A panel of subject matter experts–representatives from several national EMS organizations and the EMS public, including experienced field personnel, EMS educators, EMS medical directors, EMS agency administrators, and State EMS regulators–evaluated scientific evidence and expert opinions to create the model. They also developed a rapid process for updating the scope to address urgent needs. The process has been used to help states and EMS organizations respond to public health emergencies, including opioid overdoses and COVID-19.
The National EMS Scope of Practice Model has provided guidance for States and territories in developing their EMS scope of practice legislation, rules and regulations. While the model provides Federal guidance, each State maintains the authority to regulate EMS within its borders and determine the scope of practice of State-licensed EMS clinicians. 
Read the current edition of the National EMS Scope of Practice Model, which includes 2021 changes related to vaccine administration and specimen collecting for testing.
In 2018, NHTSA hosted an EMS Focus webinar, "The New National Scope of Practice and What it Means for You," featuring speakers involved in the creation of both the original 2007 model and the major revision published in 2019. You can find previous versions of the National EMS Scope of Practice Model and other information by searching the EMS.gov Resources section.
Last Updated: 11/17/2022